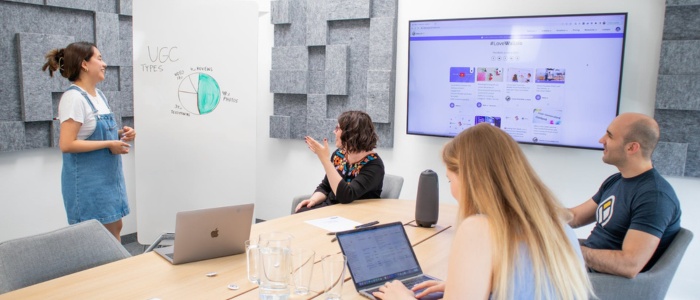 What Is User-Generated Content? A Complete Guide (2023)
User-generated content (UGC) is more popular nowadays, with over 93% of customers claiming that UGC has affected their purchasing behavior on social media. But as the level of competition rises, finding the ideal audience to target for businesses is becoming more difficult and prohibitively expensive. So how do they make their marketing efforts effective? They do it by using just user-generated material in their ads. 
Make your way through this user-friendly UGC guide if you're interested in learning how to make UGC profitable by using it to its full potential. 
What Is User-generated Content?
Any material—text, photographs, videos, blogs, testimonies, etc.—produced by individuals for other people is referred to as user-generated content. User-generated content is unquestionably the next wave of the web and is undoubtedly proving to be a massive life force in the digital world, according to venture capitalist John Doerr.  
Types of User-Generated Content
UGC is an umbrella term comprising different types of content. Mentioned below are a few essential ones: 
User-Generated Image Content
Social media platforms like Instagram, Pinterest, and Facebook are aesthetically pleasing photography platforms. The attractive photos on these sites motivate people to explore more content from the sites. It also gives brands an opportunity to collect photos from their users. 
User-Generated Video Content
Unboxing videos, in-depth product reviews, and other user-generated material attract more viewers' interest. Additionally, videos are more effectively received by the audience and provide them with a deeper understanding of your company. 93% of the marketers reported finding a new client as a result of social media video content.  
User-Generated Reviews/ Testimonials
Customer review is another popular type of UGC. They serve as a brand's spokesperson and use word-of-mouth advertising to generate buzz. 
Why Should Brands Consider UGC in Their Marketing?
Here is your response to the question of why user-generated content is so significant that it stands out when the marketing industry undergoes a paradigm change. 
Marketing With User-Generated Content Is More Effective
Consumers used to be readily swayed by unrealistic commercials depicting made-up situations, with hired models standing in front of studio lighting. However, recent consumer behavior has changed to reflect a desire for more genuine and unfiltered material. 
User-Generated Content Is Authentic
User-generated content increases the reputation of brands. However, UGC is 2.4 times more likely than brand-generated material to be trusted by users. Therefore, modern customers expect to have real understanding about the things they seek out, whether it be a good, service, or experience. 
UGC Promotes Brand Advocacy
Customers become the face of brands when they leverage UGC in their marketing initiatives. These consumers identify more with the brand and grow to be brand loyalists when they come across these UGC ads. 
UGC Is a Cost-effective Way of Marketing
Brands don't need to search far and wide for UGC because it is widely available. Users create material with brand-specific hashtags, mentions, handles, and other identifiers. This content may be gathered and reused for marketing without cost. Because of this, companies across industries have been able to reduce their marketing expenses by utilizing user-generated content. 
How to Create Successful UGC Campaigns
Here are a few simple guidelines for developing a strong and memorable UGC campaign. 
Choose social networks most impactful to your campaign

 

Setup your UGC campaign goals

 

Collaborate and focus on community building

 

Analyze & measure your UGC campaign efforts